Hangzhou (Halloween Hangover) Hat
第四届杭州极限飞盘分组邀请赛
When: Sat - Sun, 8 - 9 Nov 2014
时间:2014年11月8 - 9日
Where: Hangzhou, China
地点:中国杭州
Entry Cost: The registration fee is 300 RMB if you pay before 11:59 p.m. on October 26; 350 RMB if you pay after October 26.

Student discount: Full-time Chinese national students are 250 before 11:59 p.m. October 26; 300 RMB after October 26.
Entry Cost: 1) Full-time Chinese national students 300rmb and 2) Others 350rmb

比赛费用:
10月26日11:59前,300元/人;
10月26日11:59后,350元/人。
学生价(全日制中国学生):
10月26日11:59前,250元/人;
10月26日11:59后,300元/人。
提前报名优惠:在2014年10月26日前完成报名及缴费可享受50元优惠哦!!!
Payments options: AliPay, or China Construction Bank - See full details in the Payments Announcement (Click link).
缴费选项:支付宝,或者中国建设银行 - 详见缴费通知(点击这里)
如想看中文资料就发给我们email.
Hangzhouultimate [at] gmail [dot] com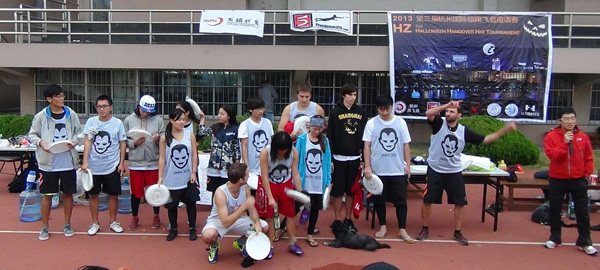 Hey there Ultimate Fans,

We are going to host our 4th annual Hangzhou Hat!

我们很高兴的宣布,今年杭州飞盘将举办我们的第四届HAT(分组)极限飞盘赛


For those who don't know, Hangzhou is one of China's most scenic cities. It's just a 50 minute high speed train ride S-W of Shanghai near the central eastern coast of the Chinese mainland.
"
上有天堂,下有苏杭",杭州是中国最美丽的城市之一,交通便利:高铁距上海50分钟,南京70分钟,宁波60分钟。还等什么呢????
For all you new players out there, hat tournaments are a great experience since your team Captain and the other experienced players will be passing on heaps of great Ultimate strategies and tips in order to get their team performing like a well-oiled machine as quickly as possible. Meanwhile, hat tournaments also aim to be FUN and social experiences too.
对于新接触飞盘的盘友而言,HAT赛事从你们的队长和其他有经验的选手身上获得比赛技战术经验的最佳时机,同时,较严肃、激烈的公开赛,HAT则显得轻松和愉快,也是你结识新朋友的好时机哦!!


Last year, Hangzhou Halloween Hangover Hat welcomed 150 players from all over the world, making it the largest hat tournament in China. This year we will deliver the same tournament quality and expect to have even more people. Miki has arranged three real grass soccer fields this year, so we will maximize the number of games each team plays. Each team will have no more than 15 players, so we will also maximize the playing time for each player. 去年杭州分组赛迎来了150位来自世界各地的飞盘爱好者,也让杭州HAT成为了中国最大的HAT。今天我们将秉承以往的比赛质量,并迎来更多飞盘爱好者。MIKI为我们准备了3个真草场地作为比赛场地,所以每个队可以打尽可能多的比赛。每个队的队员数量不超过15人,所以每个队员也可以有足够的上场时间。

What you get for your money:

A jersey made for Hangzhou Hat
Drinks on the field Saturday breakfast, lunch, and dinner Sunday breakfast and lunch Saturday night costume party (Beers!)
The champion team will get Hangzhou Hat Discs
More funny souvenirs are on their way

The fee does not include:
Hotel
Transportation to/from Hangzhou


费用包含:
定制比赛用队服一件、水、
周六早中晚三餐,周日早餐和午餐、
周六晚狂欢派对啤酒。
冠军队伍还将获得杭州HAT的纪念飞盘。
更多惊喜还将继续


费用不包含:
-住宿费
-往返杭州的交通费
-周五晚上的聚餐



Preliminary Schedule/初步计划
Fri, 7 Nov - Pre-Party + Hat Teams drawing (Attendance is optional)
周五,11.7 - 热身party+分组抽签仪式(自愿参与)
Sat, 8 Nov - Pool play + Dinner + Costume Party (Be there or be square! Friends may join us for a fee)
周六,11.8 – 小组比赛+聚餐+派对狂欢(不见不散!各种家属参与需要支付晚餐费用)
Sun, 9 Nov - Cross-over games + Playoffs + Finals + Prize ceremony
周日,11.9 - 淘汰赛 + 半决赛 + 决赛 + 颁奖典礼


The 4th Hangzhou Hat event handbook with info on the tournament format, travel info, suggested hotels and other important details will be emailed to you after you register.
当您完成注册及缴费之后,我们将电邮您赛事手册

But, if you have any questions in the meantime, then shoot us an email at: HangzhouHat [at] gmail [dot] com
如有仍和疑问请电邮至 HangzhouHat [at] gmail [dot] com


The party theme this year is reusing your Halloween costumes! Our tournament is one week after the Halloween weekend, but bring your costumes anyway! Reuse it or exchange it with your friends! 今年的派对主题是:万圣节服装二次利用。我们的比赛是万圣节的后一周,为什么不带来你的万圣节服装,然后二次利用呢?你可以再穿一次,也可以和朋友们交换服装!
Hangzhou Ultimate/杭州飞盘
President – Miki Tse
俱乐部主席 – Miki Tse
Vice President – Jack Zhao
副主席 – Jack Zhao
Head Coach – Daniel Tremblay-Sher
主教练 - Daniel Tremblay-Sher
Hangzhou Hat Committee
Tournament Director - Miki
Technical Director – Jack Zhao



For your viewing pleasure, here are some more photos of past Hangzhou Hats on and off the fields...
往年赛事精彩回顾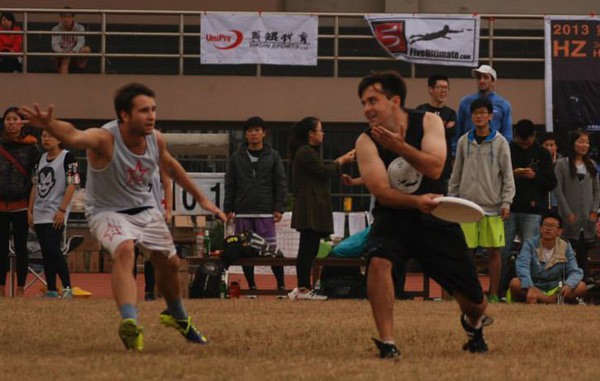 the handsome players:P
the wild players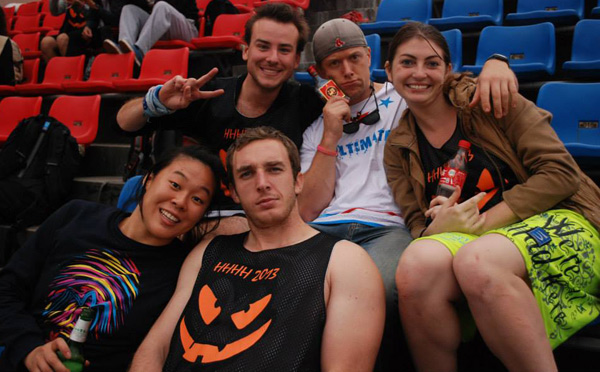 the lovely players
the madness spectators

*******************************************************

the Party Night

the horse men and women
the cavemen
my favorite of the Night
Pre-Party and Awesome Live Drawing @Maya Bar